Our first garden was situated in the southeast corner of the lot. It would have two sections, one running north-south, the other east-west, with a cedar rail fence down the centre of each section, intersecting near the southeast corner of the bed. The fence would provide a nice backdrop for our perennial plantings, the posts vertical elements onto which vines could be trained. These were installed at 8' intervals. Soil here is nearly non-existent. Digging down only unearths hundreds of small stones, mostly flat, averaging from thumb to palm size, with the occasional boulder thrown in. We therefore settled on the idea of raising the beds well above ground level to avoid having to dig into this rocky terrain.

---
NOTE The images below show this garden at several stages during its construction. In my mind, I envisioned how each section would look in the future. To see what was eventually achieved here, click on each image. A picture of that section of garden during spring or summer 2006 will appear in a new window.

---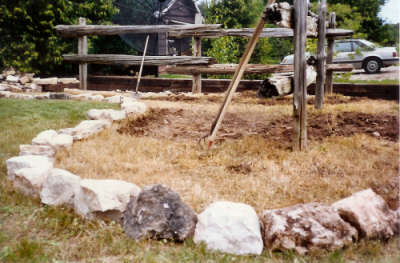 Some blasting had recently been done along local roads for installation of new telephone poles. Tons of small rough-edged rocks thus produced were waiting in the ditches alongside for us to put them to use. We relocated dozens and used them to mark the perimeter of our first garden bed.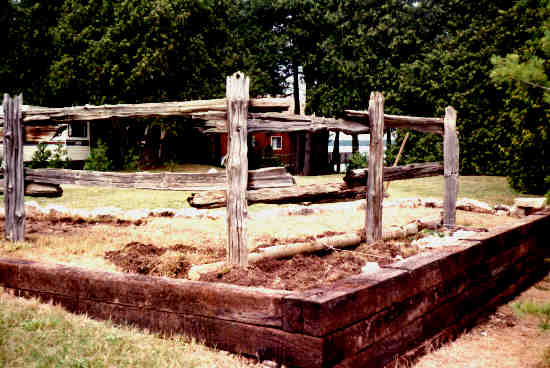 The southeast corner of this new bed was on a steep slope, just perfect for the use of railroad ties to raise the level in that area to that of the front section.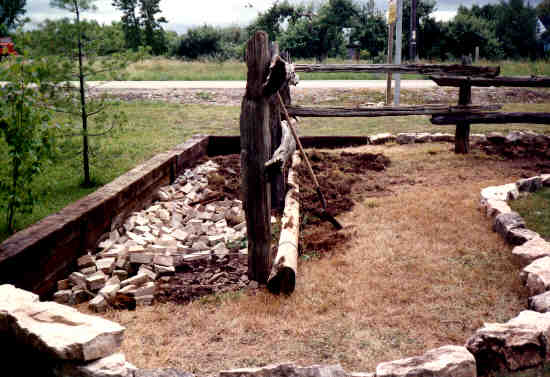 The height of the backside created a deep hollow inside the ties which needed to be filled in. We threw in old angelstone that had been lying around for years and other bits and miscellaneous pieces to fill at least 2/3 of the huge hole.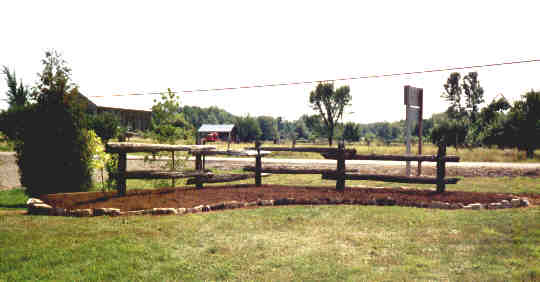 Next came the soil, raked and levelled and clearly not deep enough for the plants I intended to use nor for the bulbs which would be essential for early spring colour.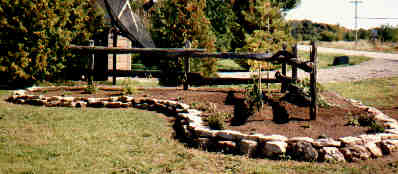 Back to the ditches we went for a second layer of rock, laid slightly back from the first tier. We would later find the soil pockets created by this process ideal for many small rock-loving plants, including Hens and Chicks. Enough soil was added to make the entire bed level and we were ready for planting. To see the next step in the creation of our Corner Garden, follow the link to Corner Garden Planting. Or follow any of the links further below for lots of information about plants, their companions and site preferences.
---
The image at the top of this page is 'Silver Arrow' Miscanthus. To learn more about this wonderful ornamental grass, follow the link to Miscanthus sinensis 'Silberpfeil'. The image around this page is an edited version of the lovely mustard-yellow large-flowered daylily cultivar 'El Desperado'. It has a wine purple eyezone above a green throat. The cultivar was registered in 1991, has scapes 28" high, blooms 5" across, and a Late bloom season. This is the result of a cross between Hemerocallis 'El Bandito' and Hemerocallis 'Blackberry Candy'. To discover more wonderful forms of Hemerocallis and the companions that suit them best, follow the link to our own Butterfly Magnets & Their Companions page and from there to even more daylily links arranged by colour. To research all registered Daylily cultivars visit the American Hemerocallis Society Daylily Database. You will be amazed at all you can learn there. Bookmark us before you leave however since we want you to be able to come back here.
---
All of our own Gardens By The Bay pages can be accessed by clicking on the links below.
---
HOME GARDEN POETRY | GARDEN POETRY MUSE GEORGIAN BAY VIEW BOTANICAL LATIN - BASICS COLOR THEORY THE GARDENS CORNER GARDEN CONSTRUCTION &nbsp| CORNER GARDEN PLANTING | LONG GARDEN EAST GARDEN | HOSTA GARDEN | NORTH GARDEN | WINTER GARDENS PLANT PARTNERSHIPS BLUE PERENNIALS Aconitum - Geranium | Iris - Vinca BULBS Allium - Hyacinthus | Narcissus only | Tulipa only | Minor Bulbs BUTTERFLY MAGNETS Anaphalis - Hemerocallis | Liatris - Veronicastrum


DAYLILIES
Spider & Unusual Form

EDGERS Arabis - Iris | Nepeta - Veronica FOLIAGE PERENNIALS Alchemilla - Tanacetum HOSTA Hosta - all HUMMINGBIRD-FRIENDLY PERENNIALS Alcea - Salvia ORANGE PERENNIALS Achillea - Tulipa ORNAMENTAL GRASSES Acorus - Imperata | Miscanthus - Spodiopogon PINK PERENNIALS Achillea - Lilium | Lychnis - Veronica PURPLE PERENNIALS Aconitum - Liatris | Polemonium - Veronica RED PERENNIALS Achillea - Veronica SHADE PERENNIALS Aegopodium - Erythronium | Ferns - Polemonium | Polygonatum - Vinca SILVER FOLIAGE PERENNIALS Achillea - Cerastium | Cornus - Limonium | Lunaria - Veronica SIMPLY SPECIAL PERENNIALS Acanthus - Saxifraga WHITE PERENNIALS Achillea - Iris | Kalimeris - Yucca YELLOW PERENNIALS Achillea - Hypericum | Inula - Verbascum VARIEGATED-FOLIAGE PERENNIALS Acorus - Erythronium | Hakonechloa - Lysimachia | Miscanthus - Yucca PLANT PROFILES Dianthus 'Tiny Rubies' | Geranium | Geum coccineum | Kerria japonica | Knautia macedonica Paeonia tenuifolia | Papaver somniferum | Rudbeckia | Salvia 'East Friesland' Trollius | Veronica 'Sunny Border Blue' PROPAGATION DIVISION - SPRING ONLY | DIVISION - FALL ONLY | DIVISION - SPRING OR FALL | DO NOT DIVIDE FERTILIZATION

BULBS | ORNAMENTAL GRASSES | PERENNIALS | SHRUBS | VINES LINKS GARDENS | LOCAL GARDENS | BOTANICAL TERMINOLOGY GARDENING BOOKS | NON-GARDENING
HOME