GARDENS BY THE BAY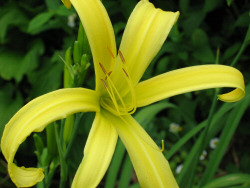 SPIDER & UNUSUAL FORM DAYLILIES

This love affair of mine started a few years ago with an email from a friend, asking what I knew about Spider and UFo daylilies. I had heard of spider-flowered daylilies, had even seen pictures of a few. UFos were another matter. I had simply never heard of them. The search I began on that day has provided me countless hours of viewing images of gorgeous daylilies, has fostered new friendships and, if all that wasn't enough, enhanced my own gardens when I began adding my personal favourites to garden beds.

---
SPIDER DAYLILIES From my first Google Images search I was hooked. Long tapered petals and sepals, collectively called tepals, appealed to me immediately. I learned however that all Spider daylilies do not have the word "Spider" in their names, nor are all cultivars with the word "Spider" in their names necessarily Spiders.

The "Spider" classification of daylilies is based on the length to width ratio of the petals. To be registed as such a daylily's longest petal, usually the bottom one, must be at least 4 times longer than it is wide. This Spider Ratio is written as 4.00:1. The correct method to measure the petals of a daylily both on and off the scape to ensure it is a Spider type can be found at Spider Measuring Methods.

The image at the top of this page is of the lovely Hemerocallis 'Kindly Light', one of many belonging to this exciting class. This cultivar was registered in 1950 and is still much sought after even now, sixty years later. Its first year's blooms in my garden were not impressive. But in the second year this is the image I captured. Clearly my patience was rewarded. The highest award of the American Hemerocallis Society is the Stout Award. Their 2009 award was given to a lovely Spider, the cultivar 'Skinwalker', a lavender blend with a green throat, 32" scapes, flowers 8.5" across, a mid-season bloomer and a Spider Ratio of 5.20:1.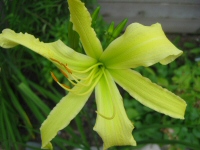 Above are three among many Spider daylilies that I want to add to my gardens. From left to right they are: Hemerocallis 'Cleopatra', Hemerocallis 'Lady Fingers' and Hemerocallis 'Carolina Octopus'. The cultivar 'Kindly Light' at the top of the page has a spider ratio of 7.70:1, meaning the petals are nearly 8 times longer than they are wide. By contrast 'Cleopatra' has a spider ratio of 5.20:1, 'Lady Fingers' 4.80:1, 'Carolina Octopus' 4.17:1. The first spider daylily, 'Orangeman', was registered in 1902. By the end of 2008 there were nearly 700 registed daylily cultivars in the Spider class. View images of the current and previous winners of the Harris Olson Spider Award for the most outstanding Spider Daylily, as awarded by the American Hemerocallis Society.



---
UNUSUAL FORM DAYLILIES While I certainly loved many of the Spiders I had seen, I tumbled head over heels for the stunning UFos. The "Unusual Form" classification of Daylilies (UFo) is based only on form or shape, not on colour or patterns. The flower of a UFo class daylily must have "distinctive petal, sepal or a combination of both petal and sepal shapes". The first Unusual Form daylily, 'Taruga', was registered in 1933.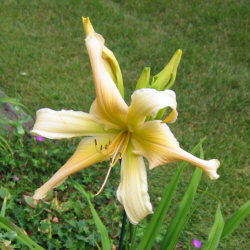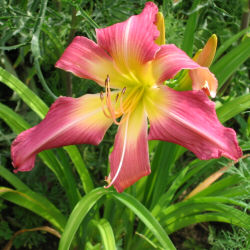 Above are the first two Unusual Form daylilies I bought. Hemerocallis 'Jan's Twister' is a peach colour with a green throat, has scapes 28" tall and flowers 11.5" across. It blooms in the Early-Mid (EM) season and may rebloom when conditions are right. It is crispate in form. Hemerocallis 'Lake Norman Spider' is a rose-pink blend with a cream green eyezone and a green throat. It blooms in mid-season (M), somewhat later than 'Jan's Twister'. It has scapes 28" tall and flowers 8" across. It is crispate in form as well but has the added attraction of being fragrant. The Unusual Form class is broken down into 3 forms whose flowers can be described as outlined below. Be sure to follow the links for each form to see images on the AHS site that will clearly show the meaning of this terminology.
CASCADE
narrow with pronounced curling or cascading, like a waterfall, woodshaving, ringlet
revolve upon themselves
SPATULATE
markedly wider at the end, much like a kitchen spatula
Unusual Form daylilies may fall within a single category but may also combine more than one feature such as crispate-cascade, crispate-spatulate or cascade-spatulate, making them even more stunning in appearance. Whatever the case, it is important to note that no cultivar is eligible for classification as an Unusual Form daylily whose measurements meet the definition of a Spider Daylily.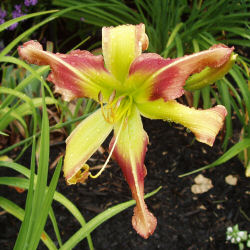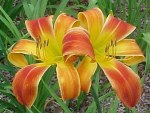 Hemerocallis 'Rosy Lights', above left, is an example of the Crispate type of Unusual Form Daylily, 'Octopus Hugs' of the Cascade type and 'Asterisk', above right, is an example of the Spatulate type. Images of both 'Octopus Hugs' and 'Asterisk' are provided courtesy of Strongs' Daylilies. Be sure to check out the link to their site below. The numbers of Unusual Form daylilies are astounding. By the end of 2008 there were nearly 2000 registered cultivars in the Unusual Form class. View images of the current and previous winners of the Lambert Webster Award for the most outstanding Unusual Form Daylily as awarded by the American Hemerocallis Society.

---
ONTARIO SOURCES OF SPIDER AND UNUSUAL FORM DAYLILIES Do you want to be among the gardeners enjoying these two exciting classes of the genus Hemerocallis? If so, follow some of the links below to Ontario Daylily Suppliers who carry many types of daylily including the Spider and Unusual Form (UFo) classes. Their images will show you the incredible variety within these classes. Most have on-line catalogues with current pricing, making comparison shopping simple. You will immediately want to add some to your must-buy list for this gardening year.
ONTARIO DAYLILY SUPPLIERS
Strongs' Daylilies
Stoney Creek
Arcadian Daylilies
Toronto
Floral and Hardy Gardens
Moorefield
Gardeness Gardens
Barrie
Nottawasaga Daylilies
Creemore
Rural Roots Gardens
Bobcaygeon
Cross Border Daylilies
Toronto
Culver Farms Daylilies
Oakville
Fairyscape Daylilies
Dundas
Artemesia Daylilies
near Flesherton
Gratrix Garden Lilies
Coldwater
Gardens Plus
Peterborough
The Potting Shed
Cayuga
Walnut Gardens
Alvinston
Whitehouse Perennials
Almonte
Dettweiler Daylily Daze
Breslau

The Strongs' Daylilies site has many pictures to whet your appetite. Listed alphabetically in their Daylily Gallery - A&B, some are Spider-flowered or Unusual Form. All are lovely. For even more pleasurable viewing, link to the cultivars for the rest of the alphabet from their home page. Then you'll want to arrange a visit in 2010 to see some of these beauties in person.



---
THE AMERICAN HEMEROCALLIS SOCIETY In 1955 the American Hemerocallis Society, formed in 1946, was appointed by the International Society for Horticultural Science as the International Registration authority for Hemerocallis. The American Hemerocallis Society homepage guarantees you access to everything you ever wanted to know about daylilies. Once there you have a choice of many of their additional links to follow, all useful, informative, with stunning images. For the American Hemerocallis Society - Registry of Daylily Cultivars visit:

---
PREPARE TO FALL IN LOVE I used the American Hemerocallis Society link above to their AHS Display Gardens to find one right in my own neighbourhood. Do a search of your own to find gardens where you can see cultivars as lovely as those below and choose which you want to add to your gardens. These images were provided by Daylily Ensemble Garden, 25 Mandeville Road, St. Thomas, Ontario, Canada, and show just a small number of the hundreds on display during the growing season. To make arrangements to see this display garden, call (519) 631-8927 or contact the owner at Daylily Ensemble Garden. The Spider daylilies below show the variation in spider ratios that makes the cultivars in this class look so unique.


SPIDERS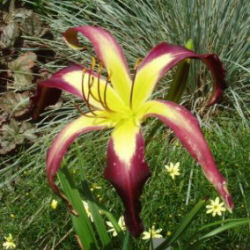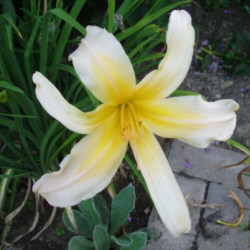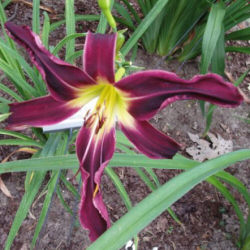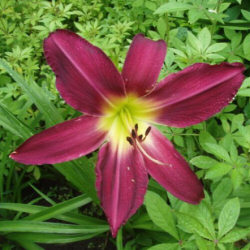 'Bali Watercolor'
'Tylwyth Teg'
'Black Ice'
'Frankie's Fantasy'

As the AHS links above showed, there are three sub-categories of Crispate Unusual Form daylilies: Pinched, Twisted and Quilled. The images below show examples of those effects that make flowers in this class so distinctive. Can you see the difference?


UFO CRISPATES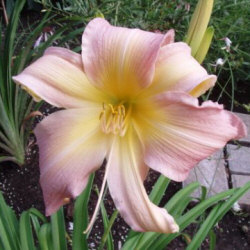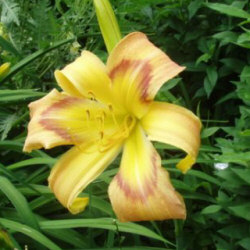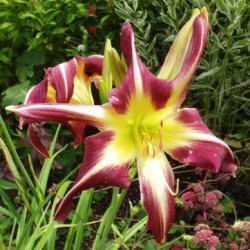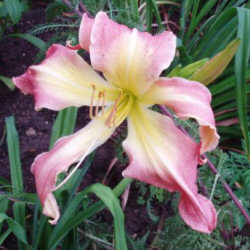 'Enjoy'
'On Silken Thread'
'Peacock Maiden'
'Pink Super Spider'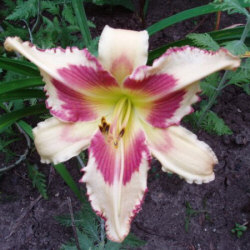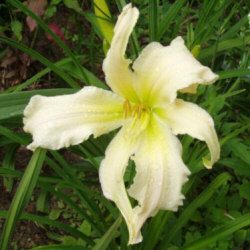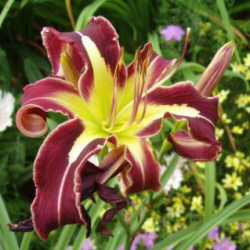 'Raspberry Griffin'
'Heavenly Angel Ice'
'Parade of Peacocks'
'Thunder Mountain'