GARDENS BY THE BAY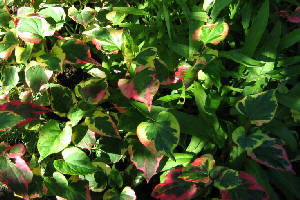 VARIEGATED-FOLIAGE PERENNIALS & THEIR COMPANIONS - 2
The gardening world seems to have gone mad for variegation. You have only to read your favourite gardening books and magazines to fully appreciate the enormous number of choices available today. To utilize the space we have left on our site, some of these many variegated plants will simply be listed by name, with a brief description, leaving you free to do your own research for suitable companions using Google and Google Images or your own favourite search engine. Be sure to bookmark this page before leaving our site so you can find your way back to us again.
---
* Watch for the animated hummingbird and butterfly with the plants that attract them. *
The deer icon indicates plants that deer are not usually attracted to.



The best time and method to propagate plants can be found on our image-intensive PROPAGATION page.
To help your plants grow their best, check out our FERTILIZATION page.
To create your own plant partnerships based on tried and true color theory, check out our GARDEN COLOR page.
To see if a particular plant is on this page press Ctrl+F, type in the name, then click the Find button.
---
HAKONECHLOA If you have any shade at all in your gardens, consider Hakone Grass an essential addition to such a site. The only drawback with this short-statured warm-season grass is the slow nature of its spread. There can never be enough of this beauty in any garden setting. Hakonechloa macra 'Aureola': Japanese Forest Grass, Hakone Grass, 16"x18-24", green-striped yellow leaves For more variegated Hakone Grass try the following:
Hakonechloa macra 'Albostriata': white-striped foliage
Hakonechloa macra 'Albovariegata': synonym H. m. 'Albostriata', white longitudinal stripes on rich green foliage
Find companions for Hakone Grass with solid green leaves at the link below.
---
HEDERA In the Ivy family, there are several variegated forms. While green-leaved ivies are very shade tolerant, variegated or yellow-leaved forms prefer more light and are generally less hardy. Research any of the forms below to determine whether they would make suitable additions to your gardens.
Hedera 'Gloire de Marengo': silver variegated leaves
Hedera 'Dentata Variegata': cream-yellow variegated leaves
Hedera 'Sulphur Heart': yellow and light green variegation
Hedera helix 'Angularis Aurea': bright yellow variegation on light green leaves
Hedera helix 'Goldheart': Zone 8, sometimes sold as perennial even in Zone 5 - don't buy it, it won't survive
If you still prefer your Ivy foliage in a solid colour, check out information at the link below.
---
HELIOPSIS Most Heliopsis forms have rather coarse, plain green foliage. Not so the cultivar below. From the day I first saw a picture of it, I knew I had to have this beauty. I have since found that it self-seeds true to the original, so I can plant even more of this wonderful short-statured form for much greater impact. Heliopsis 'Lorraine Sunshine': golden-yellow, 2-3' tall More information about the genus Heliopsis is available at the link below.
---
HEUCHERA


If there is any genus of plants you need to check periodically on plant tables at garden centres, it is Coral Bells. The name refers to the flower, but it is nearly always the foliage - its textures, colours and variegations - that attracts the most attention. And new forms are appearing all the time. Leaf variegation can be subtle or bold or every stage in between. Plant them in spring if possible and dead-head regularly for best performance. The latter seems to encourage new stems to appear for continued bloom over a longer period. Heuchera 'Amber Waves': 12"x15-18", amber-gold foliage ages burnt orange, ruffled edges, flowers light rose
with: Coreopsis 'Limerock Ruby', Achillea 'Terra Cotta', Ornamental Grasses
Heuchera americana 'Eco-Magnififolia': silvery leaves with contrasting green veins Heuchera sanguinea 'Irish Mist': red variegated form Heuchera x 'Plum Pudding': 12-30"x6-20", glossy, silvery-purple foliage, red and white flowers
with: x Heucherella 'Heart of Darkness'
Heuchera sanguinea 'Snow Storm': near white foliage edged in green Wow! Some of the variegations below will knock your socks off, while others will add a more subtle effect to your gardens. Have fun researching which ones to add to your Must-Have list. And this is an abbreviated list of all the variegated forms that are available.
Heuchera 'Amethyst Mist'
Heuchera 'Cascade Dawn'
Heuchera 'Cathedral Windows'
Heuchera 'Cinnabar Silver'
Heuchera 'Fandango'
Heuchera 'Fantasia'
Heuchera 'Geisha's Fan'
Heuchera 'Hearts on Fire'
Heuchera 'Hercules'
Heuchera 'Hollywood'
Heuchera 'Jade Gloss'
Heuchera 'Magic Color'
Heuchera 'Marmalade'
Heuchera 'Midnight Burgundy'
Heuchera 'Midnight Rose'
Heuchera 'Peach Flambe'
Heuchera 'Pearl Pendants'
Heuchera 'Persian Carpet'
Heuchera 'Petite Marbled Burgundy': 6-8"x12-15", 14" with light pink flowers, bronze foliage, distinct silver markings
Heuchera 'Pink Marble'
Heuchera 'Prince of Silver'
Heuchera 'Quilter's Joy'
Heuchera 'Rose Mirrors'
Heuchera 'Saturn'
Heuchera 'Snow Angel': highly variegated, white blooms
Heuchera 'Swirling Fantasy'
Heuchera 'Velvet Night'
Heuchera x 'Mint Frost': 5-7"x6-16", silver foliage overlaid on a mini-green background, flowers chartreuse with white
Heuchera x 'Regina': 24-36"x6-12", silver-burgundy-bronze foliage, light pink blooms
Heuchera x 'Silver Scrolls': 18-24"x6-12", metallic silver overlay with dark bronze veins, white blooms on 24" stems
Heuchera x 'Strawberry Swirl': 6-9"x6-18", coral-pink blooms on 30" stalks, ruffled green foliage marked with silver
Heuchera americana 'Green Spice': 28"x12", silver foliage with dark grey edges and purple veining, creamy flowers
Heuchera americana 'Pewter Veil': silvery-pewter with darker veins
Heuchera americana 'Ruby Veil': 6-10"x10-18", ruby-violet with silver-grey veins, green and red blooms, sun-tolerant
Heuchera micrantha 'Pewter Moon': 10-12"x6-12", silvery-green with purple undersides, pink flowers on maroon stems
Heuchera sanguinea 'Chatterbox': 12-20"x6-12" rose-pink flowers, blooms June-August, long-blooming
Heuchera sanguinea 'Monet': 6-8"x10-14", to 20" with its rosy-red flowers, variegated creamy-green foliage
Heuchera sanguinea 'Splish Splash': deep green foliage heavily mottled with white, veins turn raspberry-red in fall
The genus Heuchera has an incredible number of forms. For more information, pictures and choices follow the links below.


---
x HEUCHERELLA Perfect for late spring and summer, the genus Foamy Bells is a cross between two genera - Heuchera and Tiarella. Plant in semi-shade with fertile, well-drained soil and enjoy. x Heucherella 'Heart of Darkness': 10"x12", mint green etched metallic silver-gray, burgundy blood-red center, white flowers
with contrasting foliage: Hakonechloa macra'Aureola', Athyrium niponicum 'Pictum', Carex morrowii 'Variegata' with small perennials: Heuchera 'Plum Pudding', Geranium 'Pink Spice', Armeria maritima 'Bloodstone'
x Heucherella 'Quicksilver': to 12"x15", metallic silver leaves, bronze-maroon veins, becoming dark red, blooms mid-spring
where: woodland settings, dry shade gardens with: Athyrium niponicum 'Pictum', Carex nigra, blue forms of Hosta, Epimedium pubigerum
Do some research into more of the available variegated forms of this plant below.
x Heucherella 'Komono': silver, purple and green foliage
x Heucherella 'Party Time': palmate leaves, green and bronze, washed in silver
x Heucherella 'Silver Streak': palmate leaves, ovelined with silver and purple
x Heucherella 'Stoplight':
x Heucherella 'Sunspot': 9"x14", yellow with a striking red blotch
Find more forms of this wonderful perennial at the links below.
---
HOSTA Hostas are rarely, if ever, about the flowers. The foliage is the thing. Although there is a seemingly unlimited number of variegated forms, remember to interplant them with other Hosta forms or perennials having solid-coloured leaves for best effect. Rather than list all the variegated forms we have found companions for, we provide below a link to two of our pages with information and pictures about this genus.Hosta. Both site links below will take you away from our own pages, so be sure to bookmark us if you want to find your way back here.
---
HOUTTUYNIA Houttuynia is a genus of only one species of deciduous, marginal, aquatic plant. Otherwise known as Chameleon Plant, it will also do well in moist shade. Mine even spreads into the sunnier, drier areas of my garden. Hopefully there it will not be as invasive as it tends to be in wetter areas. Houttuynia cordata 'Chameleon': 4" x indefinite, leaves splashed with yellow and red, some sun enhances variegation

this colourful perennial can be seen in the border around the page and in the images at the top of the page and just above also known as: Chinese Lizard-Tail, Variegated Fishwort, Tricolor Heartleaf where: in constantly moist soil, as a potted pond plant, full sun to light shade note: vigorous growth will be more restrained if grown in sun with: Matteuccia struthiopteris (Ostrich Fern), Iris pseudacorus (water iris), Hosta (large-leaved forms), Carex spp.
---
IRIS

I am personally not entranced with Irises having variegated foliage, but realize I am probably in the minority in that regard. The flowers are so wonderful in themselves, in their myriad colours, that "busy" foliage variegation, for me, detracts from the show. But if it is variegation you want, you can surely find what you're looking for below. Iris pallida pallida:
synonym: Iris pallida dalmatica behind: Hosta plantaginea (August Lily) beside: Viola 'Huntercombe Purple' in front of: Hibiscus syriacus 'Blue Bird' (underplanted with Chionodoxa luciliae) offset in front of: Linum perenne
Iris pallida 'Aureo-variegata': 3', lemon-yellow striped foliage, fading to white
sometimes described as striped lengthwise in gold and bright green, lavender-blueflowers where: well-drained site with half day sun combined with: Artemisia 'Silver Mound', Coreopsis verticillata 'Moonbeam'
Iris pallida 'Variegata': striped lengthwise with cream and grey-green
with: Sedum 'Vera Jameson'
If, like me, you prefer your Iris foliage to be solid-coloured, you will find a wealth of forms and their companions at the links below.
---
KALIMERIS I'd never heard of this perennial when I bought mine a couple of years ago. Feedback from any readers of this page who grow it and can provide more information would be appreciated. Kalimeris incisa 'Variegata': 30" tall, pale mauve aster-type flowers, foliage edged in cream, May-September
perhaps a synonym for?: Kalimeris yomena 'Aurea' below
Kalimeris yomena 'Aurea': Variegated Aster, 36"x36", light lavender aster-like flowers, creamy-gold-edged foliage

perhaps a synonym for: Kalimeris incisa 'Aurea-variegata' where: useful as a garden edger in full sun
---
KERRIA I don't know why more people don't grow this shrub with lovely yellow flowers for spring interest and pistachio-green stems providing year-round appeal. Perhaps they've tried the truly ugly double-flowered forms. Perhaps they don't know this is the perfect shrub for shady conditions, including deepest shade. The solid green form is as lovely as the one with variegated foliage. Try them both and you'll see what I mean. Kerria japonica 'Variegata': Japanese Kerria shrub, 5-8'x6-9'
---
LAMIASTRUM Archangel or Yellow Archangel is perfect as a groundcover planting for partial to full shade. And the variegated foliage looks wonderful with the hooded yellow flowers it bears for a short time in spring. For the rest of the gardening season the colourful foliage by itself can bring interest to a shady corner in the garden. Or drape it over the edge of a pot with other plants to put to use all the extra rooted pieces of this fast-spreading perennial that you'll surely have. Lamiastrum galeobdolon Lamiastrum galeobdolon 'Variegatum': Lamiastrum galeobdolon 'Herman's Pride':
---
LAMIUM Spotted Lamium, with its silver-touched leaves and pink, mauve or sometimes white flowers, is also a lovely perennial for shady spots. Some forms have more subtle variegation in the foliage than others but all are most attractive. Lamium maculatum: Lamium maculatum 'Golden Anniversary': 8"x1-2', foliage is green, gold and silver, mauve-pink flowersLamium below to find variegations that will make suitable companions for other plants in your gardens already.


Lamium maculatum 'Aureum': 4-6"x18-36", golden yellow-green leaves with a silvery white center, pink flowers


If you want more of this shade-loving plant to brighten up shady corners of your garden you will find additional forms and their companions at the links that follow.


---
LIRIOPE Whether the flower colour is white or a shade of purple, the Lilyturf is a great addition to partially or fully shaded areas in the garden for late-season bloom. Some forms have solid green leaves, others are variegated. Liriope muscari 'Variegata': green and cream-striped leaves More Liriope forms and information can be found at the links below.
---
LYSIMACHIA Loosestrife is available in many forms and blooms in more than one colour. There is even one yellow cultivar that has variegated foliage. These plants prefer moist sites which might explain why mine are doing so poorly in my sunny, sandy gardens. Lysimachia punctata 'Alexander': 16-20" tall, yellow flowers, foliage green with cream edgesLysimachia and information about their care at the links below.
---
FOR MORE VARIEGATED-FOLIAGE PERENNIALS FOLLOW THE LINK BELOW.
---
All of our own Gardens By The Bay pages can be accessed by clicking on the links below.
---
HOME GARDEN POETRY | GARDEN POETRY MUSE GEORGIAN BAY VIEW BOTANICAL LATIN - BASICS COLOR THEORY THE GARDENS CORNER GARDEN CONSTRUCTION &nbsp| CORNER GARDEN PLANTING | LONG GARDEN EAST GARDEN | HOSTA GARDEN | NORTH GARDEN | WINTER GARDENS PLANT PARTNERSHIPS BLUE PERENNIALS Aconitum - Geranium | Iris - Vinca BULBS Allium - Hyacinthus | Narcissus only | Tulipa only | Minor Bulbs BUTTERFLY MAGNETS Anaphalis - Hemerocallis | Liatris - Veronicastrum


DAYLILIES
Spider & Unusual Form

EDGERS Arabis - Iris | Nepeta - Veronica FOLIAGE PERENNIALS Alchemilla - Tanacetum HOSTA Hosta - all HUMMINGBIRD-FRIENDLY PERENNIALS Alcea - Salvia ORANGE PERENNIALS Achillea - Tulipa ORNAMENTAL GRASSES Acorus - Imperata | Miscanthus - Spodiopogon PINK PERENNIALS Achillea - Lilium | Lychnis - Veronica PURPLE PERENNIALS Aconitum - Liatris | Polemonium - Veronica RED PERENNIALS Achillea - Veronica SHADE PERENNIALS Aegopodium - Erythronium | Ferns - Polemonium | Polygonatum - Vinca SILVER FOLIAGE PERENNIALS Achillea - Cerastium | Cornus - Limonium | Lunaria - Veronica SIMPLY SPECIAL PERENNIALS Acanthus - Saxifraga WHITE PERENNIALS Achillea - Iris | Kalimeris - Yucca YELLOW PERENNIALS Achillea - Hypericum | Inula - Verbascum VARIEGATED-FOLIAGE PERENNIALS Acorus - Erythronium | Hakonechloa - Lysimachia | Miscanthus - Yucca PLANT PROFILES Dianthus 'Tiny Rubies' | Geranium | Geum coccineum | Kerria japonica | Knautia macedonica Paeonia tenuifolia | Papaver somniferum | Rudbeckia | Salvia 'East Friesland' Trollius | Veronica 'Sunny Border Blue' PROPAGATION DIVISION - SPRING ONLY | DIVISION - FALL ONLY | DIVISION - SPRING OR FALL | DO NOT DIVIDE FERTILIZATION

BULBS | ORNAMENTAL GRASSES | PERENNIALS | SHRUBS | VINES LINKS GARDENS | LOCAL GARDENS | BOTANICAL TERMINOLOGY GARDENING BOOKS | NON-GARDENING
HOME