GARDENS BY THE BAY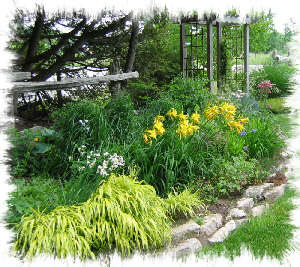 EAST GARDEN

In the spring of 2001, we installed a long-overdue septic system. Digging out the area for the septic bed produced tons of rock that we used to fill a deep hollow on the east side of the property. I had wanted to create a garden in this area for some time, and finally it seemed my patience was going to be rewarded. An added bonus would be that the garden would be our first with significant shade, something sorely lacking in the past. There is such a wonderful array of shade plants available these days I could hardly wait to get my hands on some of them. The bed was quickly built, a cedar rail fence was erected along the back, running from north to south. After rocks were moved into place along the front edge, to match our other beds, all that was needed was the plants. Plant hunts in mid-summer resulted in some real finds at bargain prices. Perennials are such marvellous plants - just a few short years later this garden was looking lush and lovely.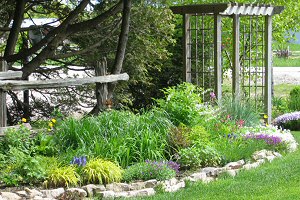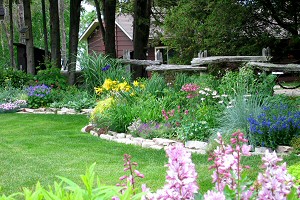 We had such high hopes for this garden. But it wasn't long before problems became apparent. THE BAD Several years have now passed and we've had to accept some hard truths about our shade garden.
The shade comes from our neighbour's garage and cedar trees on the east side of this bed. The roots of the trees are growing into the bed, sucking up much of the moisture needed by taller perennials at the rear. Now we're researching drought-tolerant shade plants to find something suitable for this environment.
Since the garden faces west it is shaded until noon, with some parts getting no sun until about 2 p.m. Once the bright afternoon sun hits however, some of the plants wilt quickly.
The soil we puchased locally for this garden, although very black, is a disgrace. Very sandy and with little body, it is full of weed seeds and a kind of root we have yet to identify.
Some areas of this new bed are infused with Liverwort, botanical name Marchantia polymorpha, which normally thrives in damp places but is fast becoming a serious problem here, even in very dry shade. Probably introduced with a new perennial, this prehistoric plant is turning a pleasurable hobby into a real chore because of all the extra work required to try to eliminate it. For more information, follow the link to Oregon State University site. Learn what Liverwort looks like and be on guard. It is appearing more often on the soil surface of purchased plants. Never buy anything with soil showing signs of the plant in the image below or on the pages of the link.



THE GOOD Along with the drawbacks there have been successes as well. All of the plants below seem to like the conditions in this garden. Click on each image to find suitable partners to plant with them.
By chance, we have discovered that Sweet Woodruff, Galium odoratum, is proving a worthy dry shade plant.




Never able to grow Foxgloves, Digitalis, in our dry, sun-drenched beds, we are now able to enjoy them at last in this area.




We are also having success with European Ginger, Asarum europaeum, with its wonderful glossy foliage, so much richer than Canadian Ginger, Asarum canadense. This is one shade plant that can seed itself around as much as it likes without a word of complaint from me.




The shade is not too dense to allow a stretch of Lamb's Ears, Stachys 'Helen von Stein', usually happiest in full sun, to become established already along the front where it can drape over the rock edge. Its oversized foliage adds a distinct effect here.




Two clumps of Hakone Grass, Hakonechloa macra, were moved to a frontal position in this bed from our Hosta garden last summer, with two more moved into position beside them this year. Time will tell whether this will be a successful relocation or whether the sun, from mid-afternoon onwards, will be too intense for this short ornamental grass that generally prefers a shady site.




Several clumps of Lamiastrum 'Herman's Pride', tucked in along the backside when the bed was new, have found their niche here. Their striking metallic-silver variegated foliage will endure throughout the season, long after the yellow flowers have faded, providing a lovely picture along the shaded back edge and seeding into other garden beds nearby.




Gooseneck Loosestrife, Lysimachia clethroides, clearly seems to prefer this site to other locations and is already demonstrating its "thuggish" nature, overtaking some less aggressive neighbouring plants.




The ubiquitous Viola tricolor, commonly known as Johnny-Jump-Up for the way in which it pops up here and there about the garden, is charming in the many different combinations of purple, yellow and white which adorn its petals. Just look at these sweet faces to imagine the many possible variations.




The tall Lavender Mist Meadow Rue, Thalictrum rochebrunnianum, growing more than five feet tall, seems to have settled in happily here, seeding itself here and there. Eventually there should be a large patch with lots of extras to give to friends.



THE FUTURE The plants will decide what stays or goes. Those that settle in comfortably will be allowed to fill a large space and those that decline will be moved to better locations for their needs. After all, this is what gardening is all about, isn't it? And since this bed is viewed from a distance, larger patches of perennials will make a nicer picture anyway. And I'm still dreaming of a bed with morning sun and afternoon shade, so I can incorporate more wonderful hostas in the exposure that suits them best.
Still optimistic after our first experience with gardening in shade, we decided to expand once more. To follow the saga of our final expansion, follow the link to NORTH GARDEN.


---


UPDATE 2006
The montage below includes images that show the East Garden looking full and colourful during the 2006 gardening year.


---

If you garden in shade and are looking for new plants that thrive in this type of situation, check out our Plant Partnership pages of ideas about which perennials to choose and what to plant with them at the links below.Hosta, you may find some ideas for their perfect companion plants at the link below. Information about the type of soil and exposure preferred by many Hostas is also included.

---

The image around this page is an edited version of Hepatica acutiloba, one of nature's finest woodland perennials. There are plants with lilac-mauve or pink flowers as well as the white shown in this image, taken in mid-April. If you like very early-flowering plants, you'll want to search out this beauty for its March-April blooms.

---

All of our own Gardens By The Bay pages can be accessed by clicking on the links below.

---

HOME GARDEN POETRY | GARDEN POETRY MUSE GEORGIAN BAY VIEW BOTANICAL LATIN - BASICS COLOR THEORY THE GARDENS CORNER GARDEN CONSTRUCTION &nbsp| CORNER GARDEN PLANTING | LONG GARDEN EAST GARDEN | HOSTA GARDEN | NORTH GARDEN | WINTER GARDENS PLANT PARTNERSHIPS BLUE PERENNIALS Aconitum - Geranium | Iris - Vinca BULBS Allium - Hyacinthus | Narcissus only | Tulipa only | Minor Bulbs BUTTERFLY MAGNETS Anaphalis - Hemerocallis | Liatris - Veronicastrum
DAYLILIES Spider & Unusual Form EDGERS Arabis - Iris | Nepeta - Veronica FOLIAGE PERENNIALS Alchemilla - Tanacetum HOSTA Hosta - all HUMMINGBIRD-FRIENDLY PERENNIALS Alcea - Salvia ORANGE PERENNIALS Achillea - Tulipa ORNAMENTAL GRASSES Acorus - Imperata | Miscanthus - Spodiopogon PINK PERENNIALS Achillea - Lilium | Lychnis - Veronica PURPLE PERENNIALS Aconitum - Liatris | Polemonium - Veronica RED PERENNIALS Achillea - Veronica SHADE PERENNIALS Aegopodium - Erythronium | Ferns - Polemonium | Polygonatum - Vinca SILVER FOLIAGE PERENNIALS Achillea - Cerastium | Cornus - Limonium | Lunaria - Veronica SIMPLY SPECIAL PERENNIALS Acanthus - Saxifraga WHITE PERENNIALS Achillea - Iris | Kalimeris - Yucca YELLOW PERENNIALS Achillea - Hypericum | Inula - Verbascum VARIEGATED-FOLIAGE PERENNIALS Acorus - Erythronium | Hakonechloa - Lysimachia | Miscanthus - Yucca PLANT PROFILES Dianthus 'Tiny Rubies' | Geranium | Geum coccineum | Kerria japonica | Knautia macedonica Paeonia tenuifolia | Papaver somniferum | Rudbeckia | Salvia 'East Friesland' Trollius | Veronica 'Sunny Border Blue' PROPAGATION DIVISION - SPRING ONLY | DIVISION - FALL ONLY | DIVISION - SPRING OR FALL | DO NOT DIVIDE FERTILIZATION

BULBS | ORNAMENTAL GRASSES | PERENNIALS | SHRUBS | VINES LINKS GARDENS | LOCAL GARDENS | BOTANICAL TERMINOLOGY GARDENING BOOKS | NON-GARDENING
HOME