GARDENS BY THE BAY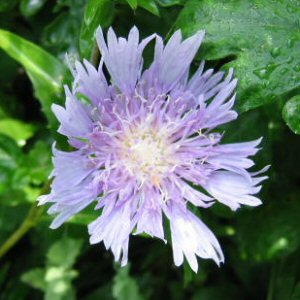 PURPLE PERENNIALS & THEIR COMPANIONS - 2
Whether your purple preferences run to the softer hues of lilac, mauve and lavender or the deeper, more vibrant tones of royal, mulberry or aubergine there will always be companions aplenty. Check out some of the suggestions below for possible partnerships to try in your own garden.
---
* Watch for the animated hummingbird and butterfly with the plants that attract them. *
The deer icon indicates plants that deer are not usually attracted to.



The best time and method to propagate plants can be found on our image-intensive PROPAGATION page.
To help your plants grow their best, check out our FERTILIZATION page.
To create your own plant partnerships based on tried and true color theory, check out our GARDEN COLOR page.
To see if a particular plant is on this page press Ctrl+F, type in the name, then click the Find button.
---
Liriope muscari is not as cold-hardy as Liriope spicata. Liriope: Lilyturf
where: along paths or walkways with: Astilbe, Bergenia, Hosta, Colchicum autumnale with: Ornamental Grasses, including Helictotrichon sempervirens
Liriope muscari 'Big Blue': Zone 6
where: around the base of a shade tree with: Anemone sylvestris, Heuchera, Tiarella, Polemonium caeruleum, Perovskia atriplicifolia (Russian Sage)
Liriope muscari 'Majestic': Blue Lilyturf (Zone 6)
with: Liriope muscari 'Munroe's White'
Liriope muscari 'Variegata': creamy-yellow edged foliage Liriope spicata: Creeping Lilyturf (Zone 5 or 4-hardy)
where: best in average to moist, well-drained sites, in acidic soil with: Verbena, Helictotrichon sempervirens, Yucca, Aquilegia, Limonium latifolium
Learn more about this genus, as well as its preferred companions plants, at the links below.
---
PLATYCODON

The Bellflower genus provides wonderful mid-summer blooms in a variety of colours, many with purple tones. They all prefer full sun to light shade and average to rich, well-drained soil. Staking is only necessary for those plants grown in especially rich soil or in part shade. Space them one foot apart in a spot where they can be left undisturbed for a long time. Foliage is very late to appear in spring so it is recommended that the plant's position be marked well in fall to avoid cutting into the pre-emergent roots. This can be done with stakes, by leaving fall foliage in place until new foliage emerges the following spring, or by surrounding them with bulbs such as Grape Hyacinths whose early spring foliage with mark their late-appearing neighbour's spot. Platycodon grandiflorus: lavender
with: Chrysanthemum x superbum (now: Leucanthemum x superbum) Shasta Daisy with: peach-coloured Hemerocallis
For many more cultivars and flowers colours, follow the links below.
---

Usually lavender-blue in colour, the woodlander commonly known as Jacob's Ladder is available in pink, white and yellows forms as well. The common name is derived from the positioning of the leaves, like rungs on a ladder. All forms are extremely hardy. Polemonium
with: Hosta with: Narcissus (daffodils & jonquil)
Polemonium caeruleum: Jacob's Ladder

where: informal gardens, in borders or woodlands, planted in masses where: under shrubs (Syringa) or airy flowering trees, in masses behind: Campanula persicifolia 'Alba' in shade behind: Corydalis lutea in shade with: Hosta, ferns, Aruncus dioicus with bulbs: Narcissus under: Dicentra spectabilis with: Aquilegia, Perovskia atriplicifolia, Phlox paniculata, Ornamental Grasses long-flowering duo in part shade with: Dicentra eximia long-blooming duo in shade with: yellow Corydalis lutea with: Phlox paniculata, particularly 'Eva Callum' or 'Franz Schubert' mass planted with: Astilbe, Bergenia (esp. 'Bressingham Ruby'), Helleborus orientalis, Galium odoratum
Polemonium caeruleum 'Brise d'Anjou': fern-like cream and green foliage, violet-blue flowers, 18-24"x18-24"
said to be: "a breath of fresh air among shade-loving perennials" follow the link for photographs and more information: Blooms of Bressingham, New Zealand where: light shade, in rich, moist, well-drained soil with: grey-blue or cream and green variegated hostas, ferns including native Asplenium bulbiferum with: Pulmonaria esp. silvery 'Majeste', Helleborus orientalis, Heuchera with moisture-loving: Ligularia 'Britt-Marie Crawford' with chocolate foliage with: Aruncus dioicus, Perovskia atriplicifolia, most Ornamental Grasses mass planted with: Astilbe, Bergenia, Galium odoratum
Polemonium foliosissimum: 30"x24", described variously as lilac, lavender or blue-purple
with: Papaver orientale (orange/crimson forms)
Polemonium reptans: 8-16"
in shade with: Dodecatheon meadia with bulbs: Narcissus combined with: Phlox divaricata, white Trillium & Tiarella
What a wonderful plant is Jacob's Ladder. If the combos above haven't convinced you, try the links below and you will want to add more to your shady spots.
---
SALVIA


Many superb purple-coloured perennials can be found in the genus Salvia. Most have showy, erect spikes of two-lipped flowers, some have aromatic leaves and a few have wonderfully variegated foliage. The square stems clearly place these plants in the mint family, Lamiaceae. Salvia: Sage, Perennial Salvia
where: warm, sunny site shape contrast with: Achillea (flat-topped); Hardy Geranium (rounded) with: Platycodon grandiflorus, Hemerocallis, Tanacetum vulgare colour contrast with: Helenium 'Hoopesii' (Orange Helenium), Rudbeckia colour contrast with: Linum flavum, Solidago canadensis beside: Phlox paniculata (an orange form) with: &nbspOenothera speciosa 'Rosea' with: Rudbeckia, Hemerocallis with: Anthemis tinctoria 'Kelwayi' with: Anemone hupehensis 'September Charm' with: Allium schoenoprasum (Common Chives) with: Dictamnus albus purpureus combined with: Achillea 'Coronation Gold', Lilium, Lythrum, Nepeta, Lavandula angustifolia 'Munstead' & Veronica
Salvia: any deep purple form

seen in the photo above with Festuca, Heuchera sanguinea and red-foliaged Sempervivum tectorum with: Alchemilla mollis with: Achillea filipendulina 'Parker's Variety'
Salvia azurea var. grandiflora: bright clear blue
with: Helianthus multiflorus with: Phlox paniculata 'Mt. Fujiyama' (white, late-blooming)
Salvia farinacea 'Victoria': lavender-blue annual
with: Achillea millefolium 'Fire King' with: Sedum 'Autumn Joy' combined with: Perovskia atriplicifolia & Rudbeckia fulgida var. sullivantii 'Goldsturm'
Salvia haematodes: Meadow Sage, lavender-blue, 3'x18"
synonym: Salvia pratensis with: red Papaver
Salvia nemorosa: violet-blue, 3'x18"
synonym: Salvia virgata var. nemorosa with: Yucca, Achillea, Sedum, Rudbeckia, Hemerocallis, Coreopsis generally with: Daisies, Mums, Ornamental Grasses
Salvia nemorosa 'Lubeca': 18" tall dwarf
with: Coreopsis verticillata 'Zagreb'
Salvia nemorosa 'Superba'
with: Geranium endressii 'Wargrave Pink', Oenothera, Nepeta, Campanula, Phlox & Iris
Salvia officinalis 'Icterina': Culinary Sage, gold/green variegated foliage, purplish flowers
over: Dyssodia tenuiloba beside: Santolina chamaecyparissus, Dianthus 'Aqua' in front of: Kniphofia 'Royal Castle'
Salvia officinalis 'Purpurascens': gray-violet foliage, 2'x3', blue-purple flowers
with: Heuchera sanguinea 'Irish Mist' (a red variegated form) or 'Snow Storm' over: Ocimum basilicum 'Dark Opal' in front of: Helianthemum 'Wisley Pink' beside: Sedum 'Vera Jameson', Stachys byzantina
Salvia x superba: Violet Sage, Perennial Salvia
where: borders or rock gardens in front of: Allium sphaerocephalum in front of: Baptisia australis, Lysimachia punctata combined with: Armeria maritima 'Dusseldorfer Pride', Stachys byzantina, Artemisia (feathery form) & Achillea combined with: Sedum spectabile & Eupatorium (lavender-blue) with: Achillea millefolium 'Cerise Queen' with: Yucca, Achillea, Sedum, Rudbeckia, Hemerocallis, Coreopsis, Stachys byzantina generally with: Daisies, Mums, Ornamental Grasses combined with: Achillea x 'Coronation Gold' & Chrysanthemum x superbum combined with: Achillea x 'Coronation Gold', Lavandula 'Munstead', Lilium, Lythrum, Nepeta & Veronica beside: Phlox paniculata (orange), Achillea 'Gold Plate' behind: Heliopsis (double yellow) with: Papaver orientale (deep crimson)
Salvia x superba 'East Friesland': Perennial Salvia, deep violet, dark violet-purple

note: follow the link for a profile of Salvia x superba 'East Friesland' seen in the photograph above with: a pink Dianthus and a blue Festuca grass with: Dianthus in general with: light yellows, pinks, rosy-pinks with: Allium christophii & Nepeta beside: Helictotrichon sempervirens beside or offset behind: Achillea x 'Moonshine' in front of: Achillea 'Paprika' in front of: Paeonia lactiflora (Common Garden Peony) with: Rosa, Lilium 'Design' (white with yellow throat), Yucca with:: Sedum, Hemerocallis, Gaillardia, Rudbeckia,Coreopsis with: Dendranthema (Garden Mum), Daisies, Ornamental Grasses in front of: pink roses with: Tulipa (pink, lavender & plum)
Salvia x sylvestris 'May Night': violet-blue, 3'x18"
what: a hybrid of S. pratensis and S. nemorosa with: Papaver orientale, Coreopsis auriculata 'Nana', Hemerocallis 'Stella d'Oro' combined with: Penstemon digitalis 'Husker Red' & Coreopsis verticillata 'Moonbeam' combined with: Centaurea macrocephala, Digitalis lanata & Campanula persificolia 'Grandiflora Alba'
Salvia 'Miss Indigo': taller than 'East Friesland' but only marginally hardy, intense violet-blue
generally with: June-blooming perennials (rosy-coloured) for color and shape contrast with: Paeonia (pink or dark red) behind: Eryngium 'Miss Willmott's Ghost', all amid California Poppy
Salvia turkestanica: Clary Sage, 30"x12"
synonym: Salvia sclarea var. turkestanica what: biennial grown as annual, white & lavender-purple flowers with: Chrysanthemum x superbum
Even more ideas on using Salvia can be found at the links below.


---
STOKESIA Amid all of late summer's bright oranges and yellows the lavender-blue tones of the Stoke's Aster, a drought-resistant perennial, are a welcome addition to any garden. Happy in either full sun or light shade, and in moist, well-drained, sandy soil, this beautiful flower "combines the precision of a thistle with the softness of an aster". Cutting stems back to the base will encourage rebloom. Also look for pink and white forms of this lovely native North American wildflower. Stokesia laevis: Stoke's Aster12-24"x12"

note: see this beauty in the border around this page, and in the images at the top of the page and directly above with: Verbena, Artemisia
---
VERONICA

Among purple-flowered perennials, one of my favourite groups is the Veronicas, commonly called Speedwell, perhaps because they are available in a variety of heights and come in such a wide range of tones, from deepest violet to lightest gentian. Most will reward your efforts to keep them dead-headed by producing a continuous sequence of blooms over a long period of time. An added bonus is that there is no shortage of well-known perennials to match to every type. Veronica alpina 'Goodness Grows': royal purple, to 12"x12-18"

combined with: Hemerocallis 'Stella d'Oro', Achillea 'Salmon Beauty', Lilium (burgundy) & Shasta Daisy
Veronica austriaca subsp. teucrium 'Crater Lake Blue': true blue, 12-18"x12"

with bulbs: Crocus, Allium moly beside: Papaver orientale with: Dianthus, Heuchera, Hemerocallis, Geranium, Coreopsis, Platycodon, Ornamental Grasses in front of: Perovskia atriplicifolia combined with: Artemisia 'Silver Brocade', Dianthus 'Tiny Rubies', Dianthus deltoides 'Albus' also combined with: Thymus serphyllum 'Coccineum' & Geranium sanguineum
Veronica gentianoides: icy-blue, 24"x18"

combined with: pink Tulipa, pink Dicentra, Bellis perennis combined with: yellow Tulipa, white Dicentra, Myosotis with: Coreopsis, Asclepias, Achillea, Geranium, Hemerocallis, Ornamental Grasses
Veronica grandis 'Blue Charm': lavender-blue, 18"x18"
over bulbs: Crocus with: Veronica longifolia 'Icicle' beside: Dianthus, Heuchera sanguinea
Veronica grandis 'Sunny Border Blue': dark violet-blue, 24"x18-24"

note: follow the link for a profile of Veronica grandis 'Sunny Border Blue' generally with: yellow, pink and white-flowered plants with: Hemerocallis (fruit shades such as peach, lemon, apricot, orange or plum) behind: Coreopsis verticillata 'Moonbeam' beside: Eryngium spp near: lemon-yellow Achillea x 'Moonshine' or hybrid Achillea (buff, rose or scarlet) combined with: Lythrum virgatum'Morden Pink' & Hemerocallis 'Lavender Tonic'
Veronica spp. incana : deep violet-blue, 8-12"x12" or more
synonym : V. incana spp. incana generally with: pink June-blooming flowers over bulbs: Crocus with: Heuchera sanguinea (pink), Lavatera 'Mont Blanc' behind: Santolina chamaecyparissus in front of: Caryopteris clandonensis combined in front of: Hemerocallis 'Mme Bellum' & Achillea x taygetea
Veronica peduncularis 'Georgia Blue': blue, 12"x20-45"
discovered in the Republic of Georgia; foliage turns glossy purple in winter this plant attracts butterflies for early bloom with: daffodils
Veronica repens: milky-blue, 3-4"x12"
over bulbs: species Crocus, small species Narcissus and Tulipa
Veronica 'Blue Spires': 3-4'x2-3'

over bulbs: Crocus with other Veronicas: Veronica spicata 'Red Fox', 'Blue Peter', 'Blue Charm' or 'Icicle' beside: Dianthus, Heuchera sanguinea
Veronica spicata: blue, 12-24"x18"
with: Achillea, Nepeta, Oenothera, Ornamental Grasses for contrast with: arching Hemerocallis
Veronica virginica: purple-blue, 5-6'x18-24"
synonym: Veronicastrum virginicum generally with: white & blue perennials with foliage plants: Hosta, Ornamental Grasses with: Phlox paniculata, Hemerocallis, Aconitum, Helenium, Rudbeckia
Veronica whitleyi: light blue with white center, 2-4"x12-18"


---
TO RETURN TO PURPLE PERENNIALS & THEIR COMPANIONS - 1, FOLLOW THE LINK BELOW.
---
All of our own Gardens By The Bay pages can be accessed by clicking on the links below.
---
HOME GARDEN POETRY | GARDEN POETRY MUSE GEORGIAN BAY VIEW BOTANICAL LATIN - BASICS COLOR THEORY THE GARDENS CORNER GARDEN CONSTRUCTION &nbsp| CORNER GARDEN PLANTING | LONG GARDEN EAST GARDEN | HOSTA GARDEN | NORTH GARDEN | WINTER GARDENS PLANT PARTNERSHIPS BLUE PERENNIALS Aconitum - Geranium | Iris - Vinca BULBS Allium - Hyacinthus | Narcissus only | Tulipa only | Minor Bulbs BUTTERFLY MAGNETS Anaphalis - Hemerocallis | Liatris - Veronicastrum


DAYLILIES
Spider & Unusual Form

EDGERS Arabis - Iris | Nepeta - Veronica FOLIAGE PERENNIALS Alchemilla - Tanacetum HOSTA Hosta - all HUMMINGBIRD-FRIENDLY PERENNIALS Alcea - Salvia ORANGE PERENNIALS Achillea - Tulipa ORNAMENTAL GRASSES Acorus - Imperata | Miscanthus - Spodiopogon PINK PERENNIALS Achillea - Lilium | Lychnis - Veronica PURPLE PERENNIALS Aconitum - Liatris | Polemonium - Veronica RED PERENNIALS Achillea - Veronica SHADE PERENNIALS Aegopodium - Erythronium | Ferns - Polemonium | Polygonatum - Vinca SILVER FOLIAGE PERENNIALS Achillea - Cerastium | Cornus - Limonium | Lunaria - Veronica SIMPLY SPECIAL PERENNIALS Acanthus - Saxifraga WHITE PERENNIALS Achillea - Iris | Kalimeris - Yucca YELLOW PERENNIALS Achillea - Hypericum | Inula - Verbascum VARIEGATED-FOLIAGE PERENNIALS Acorus - Erythronium | Hakonechloa - Lysimachia | Miscanthus - Yucca PLANT PROFILES Dianthus 'Tiny Rubies' | Geranium | Geum coccineum | Kerria japonica | Knautia macedonica Paeonia tenuifolia | Papaver somniferum | Rudbeckia | Salvia 'East Friesland' Trollius | Veronica 'Sunny Border Blue' PROPAGATION DIVISION - SPRING ONLY | DIVISION - FALL ONLY | DIVISION - SPRING OR FALL | DO NOT DIVIDE FERTILIZATION

BULBS | ORNAMENTAL GRASSES | PERENNIALS | SHRUBS | VINES LINKS GARDENS | LOCAL GARDENS | BOTANICAL TERMINOLOGY GARDENING BOOKS | NON-GARDENING
HOME