GARDENS BY THE BAY
MY FAVOURITE LINKS
The image above is of the lovely Hemerocallis 'Cleopatra', one of many belonging to an exciting class known as Spider Daylilies. For more information and images visit out Spider & Unusual Form Daylilies page. The links below will take you to some of my favourite sites, both gardening and non-gardening ones. You will also find links to additional sites from the numerous pages on our site.
---
GARDENS

SUSAN'S GARDEN PATCH has not only wonderful and detailed graphics but is also packed with personal and plant details. Easy to navigate, it is sure to provide good information for the novice and experienced gardener alike.

WENDY & AUREL'S GARDEN PATH, which I've had the pleasure of visiting, is as lovely here as it was in person. I became acquainted with the owner on-line and Wendy was the first individual I knew personally who created her own website, setting in motion the idea that I might one day be able to do the same myself.

MAGNAR'S ARCTIC ALPINES & PERENNIALS includes photographs second to none. This site will inspire gardeners everywhere to try some of the numerous alpine perennials grown by this plantsman. No wonder the site is an award-winner.
---
LOCAL GARDENS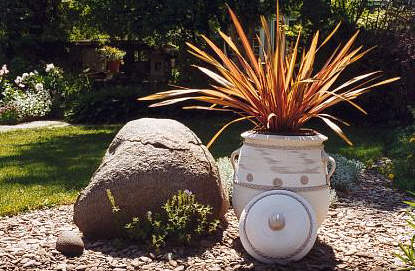 KEPPEL CROFT FARM & GARDENS, just a short distance from our cottage, is surely one of Ontario's finest gardens. Spread over 3 acres, the numerous varieties of gardens - thyme, water, herb, swamp, rockery, shady - of Bill and Dawn Loney bring visitors flocking in. You will also enjoy their nature trail, aviaries and animals including guinea fowl, peacocks and Highland cattle. Also home to Keppel Henge (see link below)

RURAL GARDENS OF GRAY & BRUCE COUNTY, a network of 32 gardens open for viewing during the gardening season, is sure to have something for everyone. If you are a resident of southern or southwestern Ontario you'll want to pick up a copy of their most recent brochure and map to plan your garden tours for next summer.
---
BOTANICAL TERMINOLOGY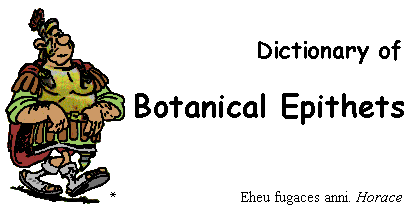 DICTIONARY OF BOTANICAL EPITHETS has alphabetical links from abbreviatus to yunnanensis, as well as a search capability. Although most references are from alpine sources, you will undoubtedly find nearly everything you need here to answer your questions.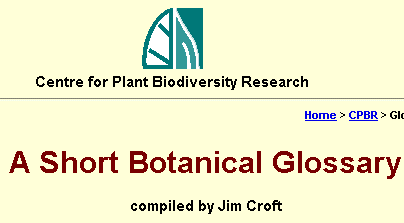 A SHORT BOTANICAL GLOSSARY defines all things botanical, from the prefix a - meaning "not" or "without" to the noun zygote meaning "the fertilised egg before it undergoes differentiation".

Part of The Garden Gate site, this link will be of great assistance with its alphabetically arranged links from A-Z. You can also link back to THE GARDEN GATE Home Page and all its rich resources at http://garden-gate.prairienet.org/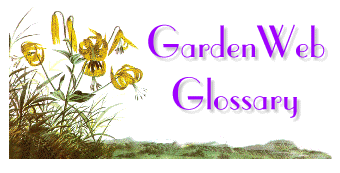 This site provides a form which will allow you to search through a glossary of over 4000 terms relating to "botany, gardening, horticulture and landscape architecture".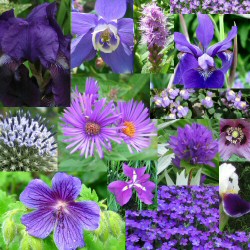 We have added our own page of BOTANICAL LATIN - BASICS with pictures of perennials to make learning easier and hopefully more fun.
---
DEER IN THE GARDEN

Dr. Leonard Perry, Extension Professor, University of Vermont, is the source I used as the reference for adding a deer gif in each of our Plant Partnership pages beside the plants that deer are not normally attacted to. For a summary of which methods work best to deer-proof your garden, and a list of plants that you may wish to add to your collection, just click on the deer graphic above.
---
GARDENING BOOKS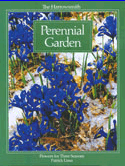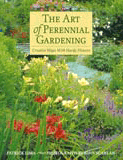 THE HARROWSMITH PERENNIAL GARDEN - Flowers for Three Seasons and THE ART OF PERENNIAL GARDENING - Creative Ways with Hardy Flowers, both by author Patrick Lima with the amazing photographs of John Scanlan, are no longer in print. What a shame. The information and enjoyment I've obtained from them over the years is huge. They are full of valuable information for both the novice and experienced gardener alike. If you should encounter either volume on a bookstore shelf, consider yourself fortunate and buy it. Do not miss the opportunity to savour the experience of Larkwhistle, their beautiful perennial garden on the Bruce Peninsula in Ontario, Canada. Both author and photographer show a wonderful artistic eye. Insight into plant companionships, both general and specific, can help you make appropriate combinations of perennials in form, colour and texture. These are my two favourite books for reading over and over again until every bit of gardening and plant advice available has been gleaned from them. They are sure to become your favourites as well.
TIMBER PRESS POCKET GUIDE TO ORNAMENTAL GRASSES by Rick Darke was recently added to my gardening library. There are no pronunciation guidelines here, but much updated information has been included. Hardiness zones are given for many cultivars, old and new, along with details of the preferred site of each. The book explains the difference between "running" and "clumping" grasses, warm season and cool season grasses, and tells why you should never fertilize your grasses. These are important issues and make this book one I highly recommend.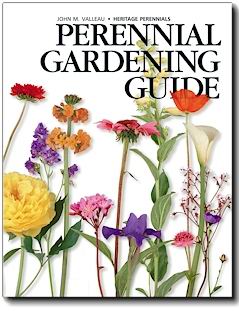 HERITAGE PERENNIALS PERENNIAL GARDENING GUIDE may well be the most useful gardening book I own. I take it with me into the garden and I never go to nurseries without this book in hand to help guide my plant purchases. It provides what so many books do not, not only the height but also the spread of each plant at maturity to help you decide how far apart new additions need to be planted. Plant information is valuable and plentiful as are pictures of numerous species and cultivars with botanical Latin and common names for those who, like me, have a need to know both. Not only perennials, but ferns, ornamental grasses, groundcovers and herbs are covered. For even more valuable information, visit the HERITAGE PERENNIALS site. The links you find there can be followed for many hours of gardening enjoyment on-line. Book-mark us first though, so you can find your way back to our site.
---
INTERNET GARDEN SITES & WRITERS I only recently happened upon PAGHAT'S GARDEN while researching various perennial species and cultivars. Instantly I was hooked. This lady can certainly write well. She has included wonderful information in a well-organized format. You will find everything from an invaluable alphabetical Plant Index, with links to more detailed information and images, to detailed articles on a variety of subjects including people who have made their mark in the botanical world and an amazing number of plants themselves. You will never be short of informative reading material once you experience this site. Click the link to PAGHAT'S GARDEN to take you on a wonderful learning experience.
---
NON-GARDENING SITES
The local millenium project, KEPPEL HENGE was intended to be "an exciting project that could have historical, astronomical, sculptural and spiritual references" for generations to come. A tall granite central stone "casts its shadow on large limestone megaliths at different times of the year: vernal equinox, summer solstice, autumnal equinox and winter solstice". Located at Keppel Croft Farm and Gardens (see link above), this site also has an analemmatic sundial where your own body's shadow tells you the time. A must-see.
---
BO BICE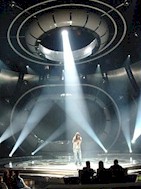 It was in spring of 2008 when I first heard Bo Bice sing. I had missed the fourth season of American Idol so I had never heard his name or his voice until I was watching videos of the winner that year, Carrie Underwood. The first link I followed was to his a capella rendition of "In A Dream" by Badlands. I loved the raw gritty power of his voice from the very first. It's not surprising that this is considered among the top Idol performances ever. Simon Cowell's comment is priceless. Next I watched and listened to the duet between Bo and Carrie of Love Lift Us Up Where We Belong. From that point I was hooked. Finding his CDs in Canada hasn't been easy but I persisted. I had to order in both his first CD, "The Real Thing", and his second, "See The Light". I also managed to snag his single with the songs "Inside Your Heaven" and "Vehicle". Now I'm anxiously awaiting the release of his third CD in 2010 and won't rest until it too is in my collection. Why am I such an avid fan? I'm not entirely sure. I do know that I smile whenever I listen to his music. What more could you ask for? Now fast forward to May 2010. Bo's new CD, Bo Bice 3, has been released. Wow! And Double-Wow! There is something for everyone here. If rock is your preference, you'll love Keep On Rollin', Good Hearted Woman and finally Get On And Ride which is pure Bo. If country is your genre, you'll hear a new countrified Bo, especially with Wild Roses and You Take Yourself With You. Die-hard fans will love this album and I predict he will be discovered by many new fans this year once radio stations start playing tracks from this CD. Way to go, Bo.
---
All of our own Gardens By The Bay pages can be accessed by clicking on the links below.
---
HOME GARDEN POETRY | GARDEN POETRY MUSE GEORGIAN BAY VIEW BOTANICAL LATIN - BASICS COLOR THEORY THE GARDENS CORNER GARDEN CONSTRUCTION &nbsp| CORNER GARDEN PLANTING | LONG GARDEN EAST GARDEN | HOSTA GARDEN | NORTH GARDEN | WINTER GARDENS PLANT PARTNERSHIPS BLUE PERENNIALS Aconitum - Geranium | Iris - Vinca BULBS Allium - Hyacinthus | Narcissus only | Tulipa only | Minor Bulbs BUTTERFLY MAGNETS Anaphalis - Hemerocallis | Liatris - Veronicastrum


DAYLILIES
Spider & Unusual Form

EDGERS Arabis - Iris | Nepeta - Veronica FOLIAGE PERENNIALS Alchemilla - Tanacetum HOSTA Hosta - all HUMMINGBIRD-FRIENDLY PERENNIALS Alcea - Salvia ORANGE PERENNIALS Achillea - Tulipa ORNAMENTAL GRASSES Acorus - Imperata | Miscanthus - Spodiopogon PINK PERENNIALS Achillea - Lilium | Lychnis - Veronica PURPLE PERENNIALS Aconitum - Liatris | Polemonium - Veronica RED PERENNIALS Achillea - Veronica SHADE PERENNIALS Aegopodium - Erythronium | Ferns - Polemonium | Polygonatum - Vinca SILVER FOLIAGE PERENNIALS Achillea - Cerastium | Cornus - Limonium | Lunaria - Veronica SIMPLY SPECIAL PERENNIALS Acanthus - Saxifraga WHITE PERENNIALS Achillea - Iris | Kalimeris - Yucca YELLOW PERENNIALS Achillea - Hypericum | Inula - Verbascum VARIEGATED-FOLIAGE PERENNIALS Acorus - Erythronium | Hakonechloa - Lysimachia | Miscanthus - Yucca PLANT PROFILES Dianthus 'Tiny Rubies' | Geranium | Geum coccineum | Kerria japonica | Knautia macedonica Paeonia tenuifolia | Papaver somniferum | Rudbeckia | Salvia 'East Friesland' Trollius | Veronica 'Sunny Border Blue' PROPAGATION DIVISION - SPRING ONLY | DIVISION - FALL ONLY | DIVISION - SPRING OR FALL | DO NOT DIVIDE FERTILIZATION

BULBS | ORNAMENTAL GRASSES | PERENNIALS | SHRUBS | VINES LINKS GARDENS | LOCAL GARDENS | BOTANICAL TERMINOLOGY GARDENING BOOKS | NON-GARDENING
HOME