Several years ago, over the course of two summers, all my poems were composed during walks I took with my German Shepherd, Sasha.
For years she had been left at home under the care of my son Drew whenever we went to the cottage for a weekend or holiday. When Drew took a job farther away from home we turned an old shed into a comfortable dog home so that she could now come to the cottage with us. And several times a day, Sasha and I would head out to walk along the highway.
She would proceed, nose sniffing the air and along the ground, picking up scents from local dogs, cats and sheep as well as the more exotic guinea hens and peacocks belonging to a neighbour. I can only guess what thoughts filled her mind at that time.
As for me, I would gaze at nearby fields, glance at the local gardens of friends and neighbours and mentally make changes to my own gardens.
Whatever the chemistry at work between us, the mix must have been right. For some reason, the verses just started to come to me. Rarely did I come back from one of our walks without at least a couple of new lines.
By her last summer, Sasha's arthritis had worsened and almost any type of movement was painful for her. Nevertheless she was always excited about heading out on every one of our jaunts. I can only hope that she enjoyed our summer walks together as much as I did.
I still walk along the same highway, still see the sheep, cats, dogs, guinea fowl and peacocks, glance at local gardens and make mental changes to my own. But no more verses have come to me. It seems a key element is missing.
S A S H A
SADLY ABSENT FROM YOUR FAVOURITE EARTHLY HAUNTS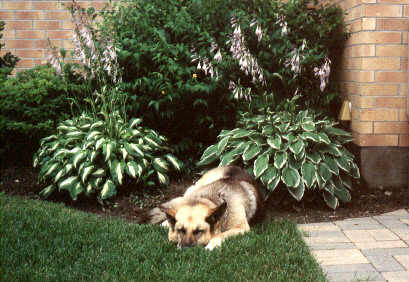 NESTLED FOREVER IN THE NICHE YOU CREATED IN OUR HEARTS
---
All of our own Gardens By The Bay pages can be accessed by clicking on the links below.
---
GARDEN POETRY | GARDEN POETRY MUSE
THE GARDENS
CORNER GARDEN CONSTRUCTION &nbsp| CORNER GARDEN PLANTING | LONG GARDEN
EAST GARDEN | HOSTA GARDEN | NORTH GARDEN | WINTER GARDENS
PLANT PARTNERSHIPS
BLUE PERENNIALS Aconitum - Geranium | Iris - Vinca
BULBS Allium - Hyacinthus | Narcissus only | Tulipa only | Minor Bulbs
BUTTERFLY MAGNETS Anaphalis - Hemerocallis | Liatris - Veronicastrum

DAYLILIES
SPIDER & UNUSUAL FORM

EDGERS Arabis - Iris | Nepeta - Veronica
FOLIAGE PERENNIALS Alchemilla - Tanacetum
HOSTA Hosta - all
HUMMINGBIRD-FRIENDLY PERENNIALS Alcea - Salvia
ORANGE PERENNIALS Achillea - Tulipa
ORNAMENTAL GRASSES Acorus - Imperata | Miscanthus - Spodiopogon
PINK PERENNIALS Achillea - Lilium | Lychnis - Veronica
PURPLE PERENNIALS Aconitum - Liatris | Polemonium - Veronica
RED PERENNIALS Achillea - Veronica
SHADE PERENNIALS Aegopodium - Erythronium | Ferns - Polemonium | Polygonatum - Vinca
SILVER FOLIAGE PERENNIALS Achillea - Cerastium | Cornus - Limonium | Lunaria - Veronica
SIMPLY SPECIAL PERENNIALS Acanthus - Saxifraga
WHITE PERENNIALS Achillea - Iris | Kalimeris - Yucca
YELLOW PERENNIALS Achillea - Hypericum | Inula - Verbascum
VARIEGATED-FOLIAGE PERENNIALS Acorus - Erythronium | Hakonechloa - Lysimachia | Miscanthus - Yucca
PLANT PROFILES
Dianthus 'Tiny Rubies' | Geranium | Geum coccineum | Kerria japonica | Knautia macedonica
Paeonia tenuifolia | Papaver somniferum | Rudbeckia | Salvia 'East Friesland'
Trollius | Veronica 'Sunny Border Blue'
PROPAGATION
DIVISION - SPRING ONLY | DIVISION - FALL ONLY | DIVISION - SPRING OR FALL | DO NOT DIVIDE
FERTILIZATION
BULBS | ORNAMENTAL GRASSES | PERENNIALS | SHRUBS | VINES
LINKS
GARDENS | LOCAL GARDENS | BOTANICAL TERMINOLOGY
GARDENING BOOKS | NON-GARDENING