GARDENS BY THE BAY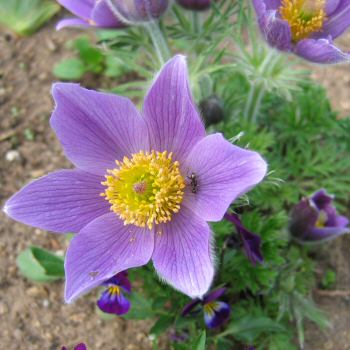 SILVER FOLIAGE PERENNIALS & THEIR COMPANIONS - 3
It is hard to imagine any colour that is not enhanced by being in close proximity to plants with silver foliage. Gray-green shades of silver are unparalleled for their ability to blend with everything. Gray goes with all hues, but is especially nice with pastels and whites. Pure silver is brighter than the preceding shades and may need judicious use in a border situation.


---
* Watch for the animated hummingbird and butterfly with the plants that attract them. *
The deer icon indicates plants that deer are not usually attracted to.



The best time and method to propagate plants can be found on our image-intensive PROPAGATION page.
To help your plants grow their best, check out our FERTILIZATION page.
To create your own plant partnerships based on tried and true color theory, check out our GARDEN COLOR page.
To see if a particular plant is on this page press Ctrl+F, type in the name, then click the Find button.
---
LUNARIA Money Plant or Silver Dollar, a self-seeding biennial, puts out silvery foliage in its first year, blooms in the second, then dies. Flowers are either purple or white and are followed by papery seedheads in the shape of coins, hence the name. Sow seeds outdoors in early spring or in mid-summer or allow the plant to self-sow.

Lunaria annua: Silver Dollar, Money Plant

---
LYCHNIS Various forms of Campion benefit by having a silvery effect in their foliage which acts to tone down the intensity of some of its flower colours. All species are especially handsome when placed amid plenty of green, including that of shrubs. They will self-sow so you are unlikely to be without them after your initial planting.

Lychnis coronaria: Rose Campion, 18-24" x 18"
what: silvery-grey foliage in rosettes with clusters of rose-crimson flowers above on branched, grey stems
Lychnis flos-jovis: Flower of Jove, Flower of Jupiter, 12-24"
what: clump-forming, with grey foliage and deep rose-pink flowers
Lychnis flos-jovis 'Hort's Variety': clear rose pink flowers
what: flowers are held on long 24" stems above woolly grey foliage in front of: Paeonia 'Mahogany' (a single, crimson flowers)

For more information about this genus, its forms and its care, follow the links below.




---
NEPETA

Catmint, both showy and fragrant, is wonderful at the edges of a garden, where the bluish-to-purple flowers can be appreciated up close. Foliage adds a grey-green, sometimes silvery, effect to this wonderful, subtle perennial plant. Cut-back afer the first flush of blooms for a repeat in the fall.

Nepeta x faasseniiNepeta x 'Six Hills Giant': 36"x30"
with: Achillea 'Coronation Gold' with: Phlomis russeliana, Alchemilla mollis & Rosa 'Graham Thomas (a lovely golden-yellow)

Find many companions for this "blender" genus at the links below.




---
PAPAVER

One form of Poppy in particular, the Opium Poppy, has handsome silvery foliage. The flowers that bloom above can be singles, semi-doubles or doubles, in many different shades, all made more attractive by being in close proximity to the lovely foliage.

Papaver somniferum
For plenty of other Poppy species, follow the links below.




---
PEROVSKIA Russian Sage is not a Sage, in spite of its name, but is gorgeous nonetheless with its fragrant, grey-green leaves and lavender-blue blooms on grey-white stems. Give it a well-drained site and prune the woody stems of this shrubby perennial back to 6" in early spring.

Perovskia atriplicifolia: Russian Sage, a sub-shrub, 4'x3'
what: 1995 PPA Plant of the Year with: Rudbeckia and other late-blooming perennials or Ornamental Grasses
---
PHLOMIS Jerusalem Sage did not appear in any of my early gardening books which is probably why I have only recently added it to my gardens. Preferring full sun and well-drained soil, it will surely provide an overall silvery effect that is always most welcome with its hooded butter-yellow flowers in whorls and grey-green foliage.

Phlomis russeliana: 36"x24"

---
PULMONARIA

Commonly known as Lungwort, this is another genus amazingly rich in silvery-foliaged forms. When you see pictures of these beauties, you'll want to try them all. Use Google Images to check out some of the forms below, just a few of the many with such silvered leaves. Pulmonaria: Lungwort
Pulmonaria 'Raspberry Splash': silver-splotched leaves, deep pinkish-red flowers, foliage does not change colour with age


Other forms of Lungwort can be found by following the links below.




---
PULSATILLA Once called Anemone pulsatilla, this spring-blooming perennial now known as Pulsatilla vulgaris may have white, red or purple blooms. After the flowers put in their rather brief appearance it is the foliage you will appreciate for its overall silvery look. You may be more familiar with the common name, Pasque Flower. The purple form of this perennial can be seen in the border around this page as well as in the images just below and at the top of the page.

Pulsatilla vulgaris:

the purple cultivar above left can be seen in the border around this page and in the image at the top of the page

Find more cultural information about and spring-blooming companions for this early-blooming beauty at the link below.




---
SALVIA


Sage, whether grown for its flowers or its foliage, is a welcome highlight in a garden setting. When the silver-foliaged forms are added the result will bring comments and praise from all your garden visitors.

Salvia argentea: ; Silver Sage, giant silvery-gray woolly foliage, silvery-white flowers (cut off immediately after flowering)
where: dry, sunny spots in extremely well-drained soil
Salvia officinalis 'Berggarten': wide, silvery-gray foliage, lower and wider than most forms
what: a cultivar that is tolerant of heat and humidity, as well as long-lived
Salvia sclarea: Clary Sage, biennial, low silvery, felted foliage in rosettes in the first year
second year: produces tall stalks smothered in white-mauve-pink flowers seed production: although the plant will die after flowering, it will produce plenty of seeds first
If the silvery forms above are not enough and you want more, just follow the links below for plenty of ideas.




---
SANTOLINA Lavender Cotton is the common name of this fibrous-rooted woody-crowned mounding perennial, perfect for edging garden beds or walkways. Drought-resistant, this Zone 6 hardy plant favours well-drained, sandy or loamy soil in full sun. Keep plants bushy by pruning back hard after flowering has finished.

Santolina chamaecyparissus: Lavender Cotton,1-2' tall, grayish-white, woolly, divided foliage, small yellow flowers
where: bed or walkway edges, knot gardens
---
SEDUM

In addition to solid-coloured and variegated leaves, some forms of Stonecrop even have silvery foliage as you will see by the list of several such below.

Sedum sieboldii: October Daphne, 6-9", pink flowers, gray-green foliage

foliage seen in the image above with the yellow flowers and green foliage of Chrysoganum virginianum


Follow the links to other pages with other forms of Stonecrop you may want to consider for your beds and borders.




---
STACHYS

Lamb's Ears is one genus that immediately comes to mind when you think of silver-foliaged perennials. A wonderful edger for adding a feeling of softness to a garden setting, a method by which to bring harmony to otherwise discordant elements.

Stachys byzantina: Follow the link below for plant combinations with other Stachys forms.




---
THYMUS Sun-loving Thyme is available in numerous forms with leaf colour ranging from bright green, to light green, to variegated, to silvery. Choices in the latter abound as you will see below. Thymus x citriodorus 'Silver Queen': Lemon Thyme, pale lilac flowers, silver-edged foliage Thymus pseudolanuginosus: Woolly Thyme, to 2"
where: cracks in patios, walkways, rock walls
Thymus vulgaris argenteus: Silver Thyme, cream and silver foliage
interplanted with: other low-growing flowers where: in boxes, planters and pots
More forms of Thyme can be found at the links below.



---
VERBASCUM

Another sun-lover, the Mullein has numerous silver-leaved forms. Many may be coarse-looking but the silvery effect will soften their boldness. These are biennial, producing a rosette of foliage the first year, then flowers the second in shades of yellow, pink or peach. They will produce plenty of seeds after flowering is over for propagation.

Verbascum bombyciferum: Giant Silver Mullein, 60-70"x18-24", silver-gray felted foliage in first year
where: in spite of their tall stature, they look wonderful in mid to front border positions surrounded by: short-statured companion plants


Other Mullein forms can be found at the following links




---
VERONICA

With its beautiful upright spikes of flowers in a variety of colours, Speedwell doesn't need silver foliage but can benefit from it just the same.

Veronica spp. incana: deep violet-blue, 8-12"x12" or more
Follow the links below to find numerous other Veronica forms and their perfect companions.




---
FOR MORE SILVER FOLIAGE PERENNIALS & ORNAMENTAL GRASSES, FOLLOW THE LINKS BELOW.
---
All of our own Gardens By The Bay pages can be accessed by clicking on the links below.
---
HOME GARDEN POETRY | GARDEN POETRY MUSE GEORGIAN BAY VIEW BOTANICAL LATIN - BASICS COLOR THEORY THE GARDENS CORNER GARDEN CONSTRUCTION &nbsp| CORNER GARDEN PLANTING | LONG GARDEN EAST GARDEN | HOSTA GARDEN | NORTH GARDEN | WINTER GARDENS PLANT PARTNERSHIPS BLUE PERENNIALS Aconitum - Geranium | Iris - Vinca BULBS Allium - Hyacinthus | Narcissus only | Tulipa only | Minor Bulbs BUTTERFLY MAGNETS Anaphalis - Hemerocallis | Liatris - Veronicastrum


DAYLILIES
Spider & Unusual Form

EDGERS Arabis - Iris | Nepeta - Veronica FOLIAGE PERENNIALS Alchemilla - Tanacetum HOSTA Hosta - all HUMMINGBIRD-FRIENDLY PERENNIALS Alcea - Salvia ORANGE PERENNIALS Achillea - Tulipa ORNAMENTAL GRASSES Acorus - Imperata | Miscanthus - Spodiopogon PINK PERENNIALS Achillea - Lilium | Lychnis - Veronica PURPLE PERENNIALS Aconitum - Liatris | Polemonium - Veronica RED PERENNIALS Achillea - Veronica SHADE PERENNIALS Aegopodium - Erythronium | Ferns - Polemonium | Polygonatum - Vinca SILVER FOLIAGE PERENNIALS Achillea - Cerastium | Cornus - Limonium | Lunaria - Veronica SIMPLY SPECIAL PERENNIALS Acanthus - Saxifraga WHITE PERENNIALS Achillea - Iris | Kalimeris - Yucca YELLOW PERENNIALS Achillea - Hypericum | Inula - Verbascum VARIEGATED-FOLIAGE PERENNIALS Acorus - Erythronium | Hakonechloa - Lysimachia | Miscanthus - Yucca PLANT PROFILES Dianthus 'Tiny Rubies' | Geranium | Geum coccineum | Kerria japonica | Knautia macedonica Paeonia tenuifolia | Papaver somniferum | Rudbeckia | Salvia 'East Friesland' Trollius | Veronica 'Sunny Border Blue' PROPAGATION DIVISION - SPRING ONLY | DIVISION - FALL ONLY | DIVISION - SPRING OR FALL | DO NOT DIVIDE FERTILIZATION

BULBS | ORNAMENTAL GRASSES | PERENNIALS | SHRUBS | VINES LINKS GARDENS | LOCAL GARDENS | BOTANICAL TERMINOLOGY GARDENING BOOKS | NON-GARDENING
HOME