GARDENS BY THE BAY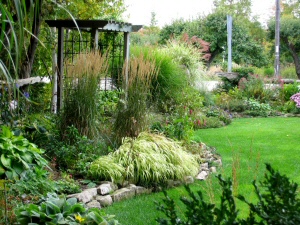 Welcome to our Gardens by the Bay. We've been creating gardens on Georgian Bay since 1992 and hope you'll take at look at what we've done. Enjoy your visit and come back often to sample the information available at the numerous links below. And don't forget to sign our Guest Book at the bottom of the page before leaving our site.


---

VISIT OUR GARDENS

Click on each image to link to the story of the garden whose name appears.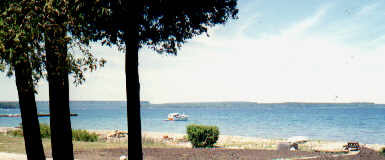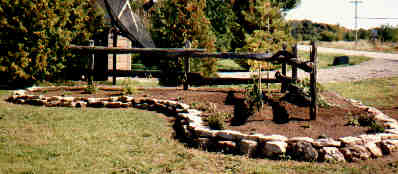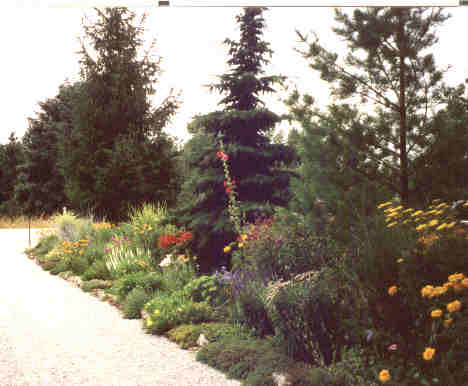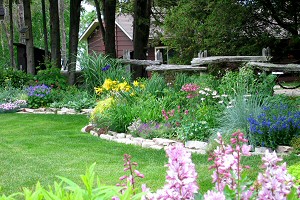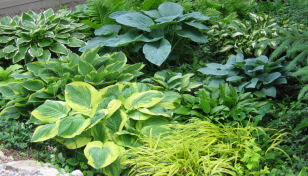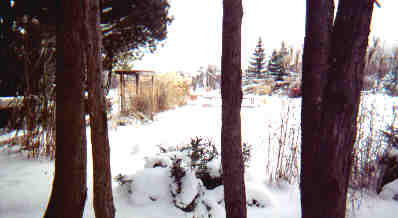 ---
PLANT PARTNERSHIPS
* Watch for the animated hummingbird and butterfly with plants that attract them. *
The deer icon indicates plants that deer are not usually attracted to.





This is the place to find perfect companions for all your bulbs, perennials and ornamental grasses. From echoes to accents, from fillers to spillers, from species short to species tall, you'll find everything you need here to give your gardens the "wow-factor" you've been looking for. These ideas were collected over many years from favourite gardening books, magazines and writers. Consider them your own personal "exterior decorators". Follow the links below, close your eyes and visualize some of the wonderful partnerships suggested, then choose your favourites and re-create the garden pictures you've envisioned.

BLUE PERENNIALS Aconitum - Geranium | Iris - Vinca BULBS Allium - Hyacinthus | Narcissus | Tulipa | Minor Bulbs - Chionodoxa - Scilla BUTTERFLY MAGNETS Anaphalis - Hemerocallis | Liatris - Veronicastrum


DAYLILIES
Spider & Unusual Form

EDGERS Arabis - Iris | Nepeta - Veronica FOLIAGE PERENNIALS Alchemilla - Tanacetum ORNAMENTAL GRASSES Acorus - Imperata | Miscanthus - Spodiopogon HOSTAS Hosta - all HUMMINGBIRD-FRIENDLY PERENNIALS Alcea - Salvia ORANGE PERENNIALS Achillea - Tulipa PINK PERENNIALS Achillea - Lilium | Lychnis - Veronica PURPLE PERENNIALS Aconitum - Liatris | Polemonium - Veronica RED PERENNIALS Achillea - Veronica SHADE PERENNIALS Aegopodium - Erythronium | Ferns - Polemonium | Polygonatum - Vinca SILVER FOLIAGE PERENNIALS Achillea - Cerastium | Cornus - Limonium | Lunaria - Veronica SIMPLY SPECIAL PERENNIALS Acanthus - Saxifraga VARIEGATED-FOLIAGE PERENNIALS Acorus - Erythronium | Hakonechloa - Lysimachia | Miscanthus - Yucca WHITE PERENNIALS Achillea - Iris | Kalimeris - Yucca YELLOW PERENNIALS Achillea - Hypericum | Inula - Verbascum


---

PLANT PROFILES

Have you ever tried to grow a particular plant and found that you weren't as successful as you'd have liked? Have you searched the Internet for a bit of information that you needed to know to grow that plant better and weren't able to find it? Follow the links below to find everything you need to know to grow each of the profiled plants well.
Dianthus 'Tiny Rubies' | Geranium | Geum coccineum | Kerria japonica | Knautia macedonica Paeonia tenuifolia | Papaver somniferum | Rudbeckia | Salvia 'East Friesland' Trollius | Veronica 'Sunny Border Blue'


---

PLANT PROPAGATION

Many perennial plants can be increased by root division. Knowing just when to do this can mean the difference between success and failure. Many other perennials, however, resent this type of disturbance and prefer propagation by other means. Follow the links below to see what you should do with the plants in your collection and when. This page is image-intensive but has much information to peruse while waiting for images to load.
DIVISION

SPRING ONLY | FALL ONLY | SPRING OR FALL | DO NOT DIVIDE


---

PLANT CARE

Plants have specific soil preferences and fertilization requirements. Follow the links below for a chart that will tell you whether a plant requires fertilization and, if so, with what and how much. Incorporated within the chart is information about soil, including soil testing, soil types, pH levels, altering soil pH, compost creation, soil amendments and mulches and the difference between them, winter vs. summer mulches and much, much more. FERTILIZATION

BULBS | ORNAMENTAL GRASSES | PERENNIALS | SHRUBS | VINES


---

G A R D E N C O L O R For those of us, myself included, who are design-challenged when it comes to combining colors for our gardens, we've created a page to make this chore much easier. We hope you will find it interesting as well as helpful in making color choices yourself. There are plenty of links to other Internet sites about color as well as a simple, fool-proof, up-to-date method of using artistic color theory in garden design. To find out what it is, simply follow the link below. GARDEN COLOR


---

GARDEN POETRY

To find out how and why I first started my Plant Partnership files, follow the links below. Whether or not you are a gardener yourself, you will be able to relate to these simple poems. If you are sentimental, you may shed a tear when you learn what inspired these verses. THE POETRY | MY POETRY MUSE


---

BOTANICAL LATIN

Are you ready to start using botanical Latin names for your perennials? The link below will take you to our own page of the basics you will need to get you started. These are presented with lots of plant pictures to help you learn and to make the process more fun.

BOTANICAL LATIN - BASICS


---

OUR FAVOURITE LINKS

GARDENS | LOCAL GARDENS | BOTANICAL TERMINOLOGY GARDENING BOOKS | NON-GARDENING SITES


---

CONTACT US

If you have any comments or suggestions, or wish to report broken links, please e-mail us.




View My Guestbook
Sign My Guestbook