GARDENS BY THE BAY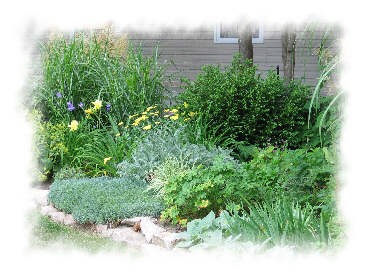 NORTH GARDEN

A line of cedars once ran from west to east along the north perimeter of a grassy area. Their boughs touched the ground and created a huge barrier blocking breezes off Georgian Bay. They also blocked a lovely view. So one day we decided to limb them up. Now we could see the view and enjoy cooler temperatures but removal of all the limbs had created a large area of rocky terrain in which weeds quickly sprouted once exposed to sunlight. We made early attempts to plant shrubs and a few perennials in pockets among the rocks. These included one evergreen at the west end and, spaced out to the east, three boxwood shrubs and three cypress spreaders. No major gardening was attempted however until we built a garage in the spring of 2002. By then, time had taken its toll. We weren't as young as we once were, and we no longer had the energy to dig out more stones from the ground than we needed to use for other projects. So we simply dug trenches that meandered among the shrubs and evergreens already in place.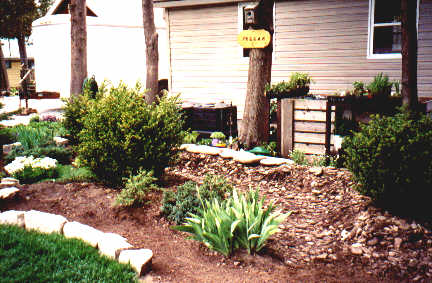 We filled the trenches with good soil, and made a few areas deep enough to plant bulbs. We brought the front of the bed forward and repeated the raised edge theme of other beds. Our huge new North Bed now ran parallel to the south side of the new garage, separated from it by a wide walkway to our work area, compost bins and outhouse. Clearly visible in spring in the photograph above, this work area will soon be hidden from view by emerging plants. By the following summer, the difference was obvious. Oh, the wonder of perennials and Ornamental Grasses!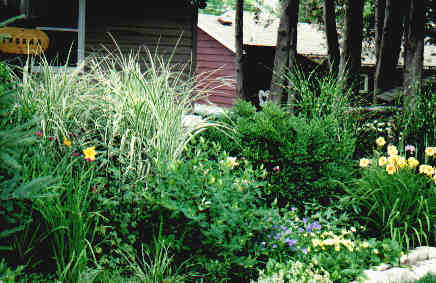 At the east end, this new garden joined up with the north end of the East Garden created a year earlier.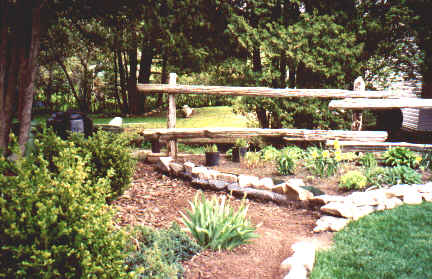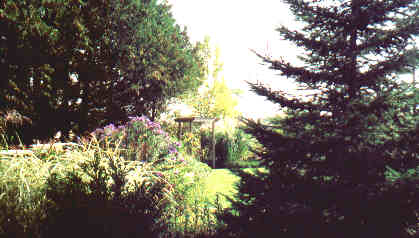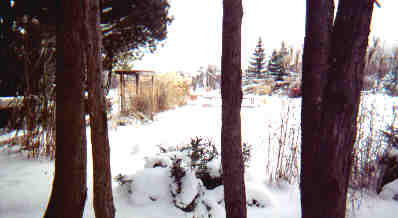 Seen from the work area, the North Garden looked lush and full in late October, just before everything was cut back for the winter. Little over a month later, the sight was considerably different, with snow covering the ground and boughs of the trees and shrubs and with ornamental grasses holding their tan flowerheads high above. We thought this would be our last expansion, but of course that is never the case in the gardening world. Our few Hosta plants sited in individual holes in the rocky ground needed room to expand as well, so we found ourselves doing additional work to help them perform even better. To follow our progress, follow the link to HOSTA GARDEN. Or follow any of the links further below for help and inspiration in your own gardening projects.
---
UPDATE 2006 The montage below contains images of the North Garden taken from different directions during various seasons in 2006.

---
The image around this page is an edited version of a gorgeous, extremely popular daylily cultivar, 'Catherine Woodbury'.
---
All of our own Gardens By The Bay pages can be accessed by clicking on the links below.
---
HOME GARDEN POETRY | GARDEN POETRY MUSE GEORGIAN BAY VIEW BOTANICAL LATIN - BASICS COLOR THEORY THE GARDENS CORNER GARDEN CONSTRUCTION &nbsp| CORNER GARDEN PLANTING | LONG GARDEN EAST GARDEN | HOSTA GARDEN | NORTH GARDEN | WINTER GARDENS PLANT PARTNERSHIPS BLUE PERENNIALS Aconitum - Geranium | Iris - Vinca BULBS Allium - Hyacinthus | Narcissus only | Tulipa only | Minor Bulbs BUTTERFLY MAGNETS Anaphalis - Hemerocallis | Liatris - Veronicastrum


DAYLILIES
Spider & Unusual Form

EDGERS Arabis - Iris | Nepeta - Veronica FOLIAGE PERENNIALS Alchemilla - Tanacetum HOSTA Hosta - all HUMMINGBIRD-FRIENDLY PERENNIALS Alcea - Salvia ORANGE PERENNIALS Achillea - Tulipa ORNAMENTAL GRASSES Acorus - Imperata | Miscanthus - Spodiopogon PINK PERENNIALS Achillea - Lilium | Lychnis - Veronica PURPLE PERENNIALS Aconitum - Liatris | Polemonium - Veronica RED PERENNIALS Achillea - Veronica SHADE PERENNIALS Aegopodium - Erythronium | Ferns - Polemonium | Polygonatum - Vinca SILVER FOLIAGE PERENNIALS Achillea - Cerastium | Cornus - Limonium | Lunaria - Veronica SIMPLY SPECIAL PERENNIALS Acanthus - Saxifraga WHITE PERENNIALS Achillea - Iris | Kalimeris - Yucca YELLOW PERENNIALS Achillea - Hypericum | Inula - Verbascum VARIEGATED-FOLIAGE PERENNIALS Acorus - Erythronium | Hakonechloa - Lysimachia | Miscanthus - Yucca PLANT PROFILES Dianthus 'Tiny Rubies' | Geranium | Geum coccineum | Kerria japonica | Knautia macedonica Paeonia tenuifolia | Papaver somniferum | Rudbeckia | Salvia 'East Friesland' Trollius | Veronica 'Sunny Border Blue' PROPAGATION DIVISION - SPRING ONLY | DIVISION - FALL ONLY | DIVISION - SPRING OR FALL | DO NOT DIVIDE FERTILIZATION

BULBS | ORNAMENTAL GRASSES | PERENNIALS | SHRUBS | VINES LINKS GARDENS | LOCAL GARDENS | BOTANICAL TERMINOLOGY GARDENING BOOKS | NON-GARDENING
HOME